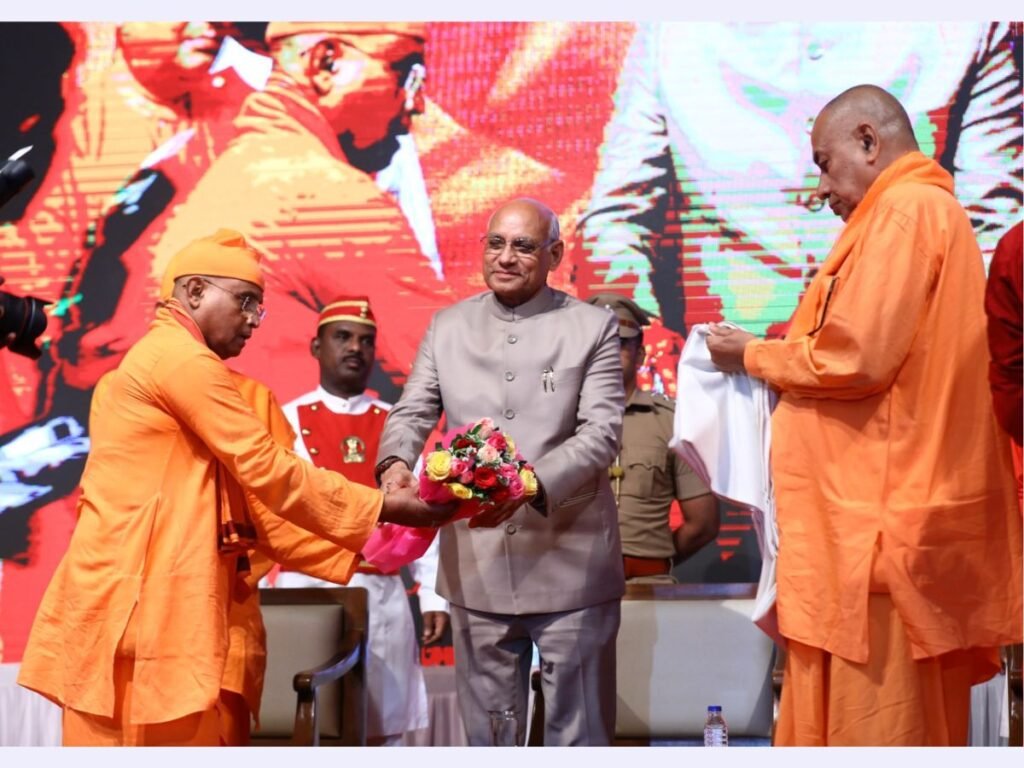 New Delhi (India), April 27: The inaugural function to commemorate the Ramakrishna Math & Mission Mumbai's 100 years of spreading spirituality & service to Humanity got off to a great start at Rang Sharda Auditorium on the 21st of April. After the arrival of Most Rev Swami Gautamanandaji Maharaj, Vice President of the Ramakrishna Mission order, the programme started with Chanting of Vedic Hymns.

Adhyaksha Maharaj of Ramakrishna Mission 
Mumbai Rev Swami Satyadevananda Maharaj welcomed the audience comprising a galaxy of monks and devotees –  A packed auditorium with a seating capacity of 850.
He specifically mentioned that he was very thankful to Honourable Governor who had accepted the invitation to grace the occasion and came in spite of his very busy schedule.
The Honourable Governor of Maharashtra Mr. Ramesh Bais who was the Chief Guest of the Inaugural function narrated his deep respect for the Ramakrishna Math & Mission order. He said it is one of the very few organisations that strikes the right note and right balance between Spiritual Development and Service to Humanity. (Hamesha adhyatmaik vikas aur manushya ke seva ke beech sahi santulan banaya rakhte hai)
He added that " Ramakrishna Mission Dharm Nirpekshata ka ek Jiti Jagti Misal Hai" The Honourable Governor made an appeal to Ramakrishna Mission to intensify its efforts to spread the man making, character building message of Swami Vivekananda amongst the youth of today.
He also fondly remembered his association with Ramakrishna Mission since he was 10 years old and how his thinking has been influenced by Swami Vivekananda's teachings.
He briefly mentioned a role he played in his younger days in Mr. Eknath Ranade's mission to build the Kanyakumari Memorial Statue in the honour of Swami Vivekananda.
He also mentioned the great role played by Ramakrishna Mission Mumbai over the last so many years in various relief activities and acknowledged its efforts in uplifting the living conditions of people in the rural tribal belt through its Sakwar centre and the great value the Ramakrishna Mission Charitable Hospital plays in the lives of the under-privileged sections in the city of Mumbai
Adhyaksha Maharaj of Ramakrishna Math & Ramakrishna Mission Mumbai Rev Swami Satyadevananda Maharaj also thanked Most Revered Swami GautamanandaJi, senior most Vice President of the order and Revered Swami Suviranandaji, General secretary of the order for accepting the invitation to grace this auspicious occasion, in spite of their busy schedule.
In his welcome address, he said "It is a matter of great pride that Ramakrishna Math & Ramakrishna Mission Mumbai has completed 100 years. Not many institutions are able to cross this landmark – He also mentioned Swami Vivekananda's assertion that Ramakrishna Mission would serve humanity for more than 1500 years – In that context the institution is still in its sunrise years"
His welcome address was followed by the felicitation of Chief Guest, Honourable Governor of Maharashtra Shri Ramesh Bais by him and other Senior Monks on the Dias.
The Vice President of Ramakrishna Mission and Ramakrishna Math Most Revered Swami Gautamanandaji Maharaj shared some incidents of Ramakrishna Mission Mumbai and how he fondly remembers his stay while he was posted here. Talkin about the Philosophy of Atmano Mokshartham Jagat Hitayacha, he recounted one incident from Swami Vivekananda's life. Once Swami Vivekananda wanted to feed the Santhal Labourers from his own hand. They were not agreeing. Swamiji requested and finally they agreed. When they were eating Swamiji started crying and remarked…"Look I can see Narayana in all of them. Please take care of all them"
The General Secretary of Ramakrishna Math and Mission, Belur Math, Revered Swami Suvirananda Maharaj mentioned that it is heartening to note that the Govt of India has come forward on its own to observe the 125 years of Ramakrishna mission.
It is not a co-incidence therefore that the Ramakrishna Math & Ramakrishna Mission order is acknowledged as a saga of success.
He re-iterated what the Honourabe Prime Minister recently commented about Ramakrishna Mission. He said "It is a milestone in the history of modern India"
Commenting on the momentous occasion of the 100 years of Ramakrishna Math & Mission Mumbai he mentioned that it was indeed a privilege and honour to attend the inaugural function of a centre that has been blessed by the visits of many Direct Disciples of Sri Ramakrishna.
The other Highlights of the day were
Release of Souvenir that was brought out on the occasion of 100 years with Reminisences of Monks and Devotees of the Mumbai centre across the years. With 300 specially curated photographs.
A Audio video screening about the History of RKM Mumbai, how it was formed and it's journey over the years to serve humanity
Talks by Senior Monks of the order
Revered Swami Sarvalokananda Maharaj ( He spoke on Ramakrishna Math and Mission in light of 100 years )
Revered Swami Atmapriyananda Maharaj (He Spoke On : The Ramakrishna Ideal according to Swami Vivekananda (English)
Revered Swami Sarvapriyananda Maharaj ( He spoke on Swami Vivekananda's Vedantic Vision and Mission)
Revered Swami Muktidananda. He spoke on The Spiritual Strength and universal appeal of the Ramakrishna Movement
Musical offering by Pt. Omkar Dadarkar vocal. & Pandit Ronu Mazumdar, Flute Recital
If you have any objection to this press release content, kindly contact pr.error.rectification@gmail.com to notify us. We will respond and rectify the situation in the next 24 hours.