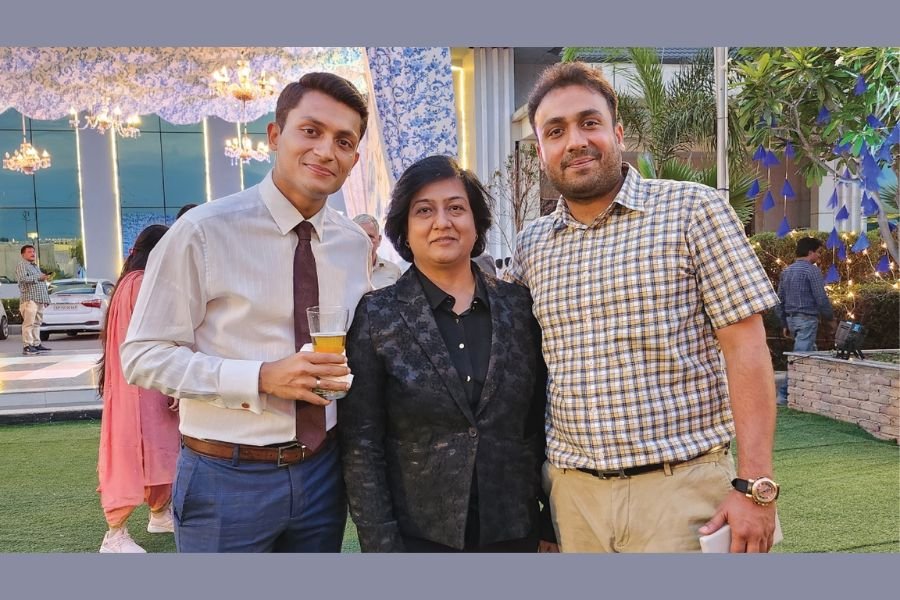 Branding consultant Neelam Verma collaborated with the Tivoli Group to offer influencers for the campaign, which culminated in a successful event. (from the left- Mr Akshya Gupta, Neelam Verma, Mr Ishaan Gupta)
New Delhi (India), May 15: Everyone wishes to be at the top and make a lot of money. The pandemic has hastened the transition to digital platforms, with more people spending time on social media like Instagram, Facebook, and YouTube, making it easier for people to become influencers and build a large following. As a result, influencer marketing is becoming increasingly popular among brands looking to reach out to new audiences and promote their products and services.
What is influencer marketing?
Influencer marketing is a marketing strategy that entails working with influencers or people who have a large following on social media sites to promote a product or service. Brands partner with influencers to leverage their credibility and influence to reach their target audience, build brand awareness, and drive sales.
Importance of organic influencers
Organic influencers play a crucial role in influencer marketing, as they have created a following through their own hard work and dedication rather than just using false techniques to inflate the numbers. They have grown their audience through actual engagement with them. They are more likely to form a stronger bond with their followers, resulting in more genuine endorsements for the businesses they promote. This is due to their follower's awareness of how hard they have worked to create content and expand their audience.
Identification of organic influencers
Choose influencers whose posts have earned a large number of comments, likes, and shares. Authentic influencers will constantly maintain a high degree of engagement with their audience. They will have a thorough understanding of the sector, and you will be able to notice that they are providing insightful comments and are open about their sponsorships. Organic influencers can provide a valuable and authentic voice for brands, helping to build trust and increase engagement with their audience.
The Importance of influencer marketing for Brands
Influencer marketing has overtaken traditional advertising methods with the advent of social media platforms such as Instagram, YouTube, and Facebook. Traditional types of advertising have less impact or are ineffective with customers, who now turn to social media for inspiration and recommendations. Collaboration with people who have a huge social media following to promote a product or service to their audience is what influencer marketing implies.
How influencer marketing supports brand building
Influencers already have a relationship with their followers and have built trust with them. In return, followers respect their advice and ideas. By working with an influencer, a brand can leverage their trust and reputation to sell its products or services. As people are now becoming increasingly interested in video content, brands working with influencers will be assisted in developing interesting and informative video content that showcases their products. Influencer marketing supports brands by allowing them to access a highly engaged and targeted audience through authentic and relatable content created by influencers.
"The fact that influencers already have devoted followers puts them in a unique position to assist you in developing those crucial connections. Today, most individuals put more faith in influencers than in celebrities." – Ms. Neelam Verma, Brand consultant
"I feel with the advancement in technology; people are becoming extremely aware of social media and other tools available for influencer marketing, which is becoming extremely important and more ubiquitous every day. The reach is far and wide; it has become an integral part of marketing and branding nowadays. Be it a luxurious clothing brand or a chain of hotels like our Tivoli group, influencers are invited to sample the services and then, in return, give honest feedback for the consumer to judge and base their decisions on." –Mr. Akshya Gupta, Tivoli
"Influencer marketing has been gaining popularity in the market for quite some time. Whenever there's a launch of a new product or business, the next crucial step any brand would take is to vigorously promote the brand by collaborating with influencers". -Ms. Simran Arora, Fashion Influencer
Compiled by Vansh Bakshi
If you have any objection to this press release content, kindly contact pr.error.rectification[at]gmail.com to notify us. We will respond and rectify the situation in the next 24 hours.