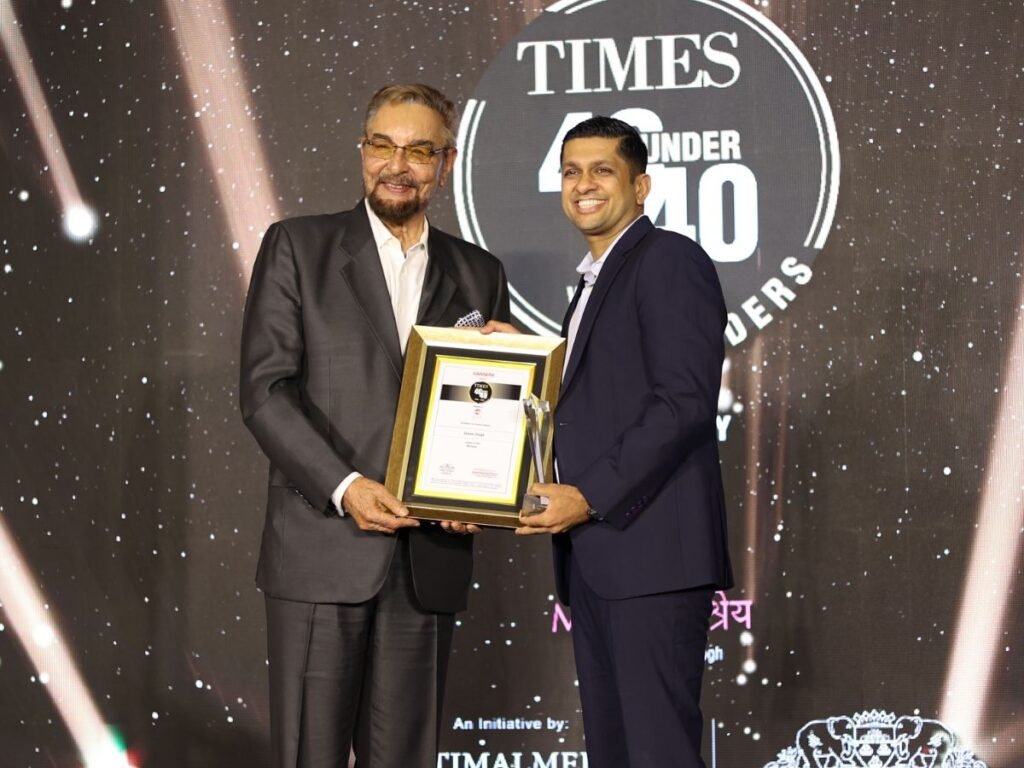 Mosambee Founder & CEO, Sameer Chugh, felicitated by Kabir Bedi at Times 40 Under 40 event in Mumbai
Mumbai (Maharashtra) [India], July 12: The Times 40 Under 40 honored the achievements of young entrepreneurs, leaders, and change-makers who have made significant contributions in their respective fields. The event was held at the Hotel St. Regis, Lower Parel in Mumbai on June 29th, 2023. Sameer Chugh, Founder & CEO of Mosambee, was felicitated at the Times 40 Under 40 ceremony by the well-known Bollywood actor Kabir Bedi along with renowned Bollywood celebs such as Aditi Rao Hydari, Tiger Shroff, Rajkummar Rao, and Sanya Malhotra. Additionally, the event also acknowledged the achievements of Jemimah Rodrigues, a prominent female cricket star.
Speaking after being felicitated as 'Excellence in Fintech Industry', Sameer responded, "Getting recognized with this award is a wonderful validation of many years of effort by the entire Mosambee team who have been able to make a positive impact on our customers, employees and shareholders".
In 2012, after spending over 6 years in financial advisory services with Ernst & Young, Sameer had a desire to build something and make an impact. Once that spark was lit, the motivation to take the leap came from his belief in the vision of making digital payments accessible to the smallest of businesses and merchants across the country. Along with his partners, he conceptualized Mosambee. Today, the company employs over 600 people and plays a pivotal role in empowering partner banks and fintech companies throughout the country by providing them with a robust platform to enable their customers with various digital payment and merchant tools.
Mosambee has not only achieved remarkable financial success, generating cumulative revenues exceeding 750 Crores but has also operated profitably—a rare feat among startups in the country. In 2020, under Sameer's direction, Mosambee expanded its footprint through the acquisition of Benow (Cashless Technologies Pvt Ltd.), further strengthening the company's position in the market. Today, the Company proudly holds the position as one of the largest facilitators of digital payments across merchants. Despite the company's presence in six countries, Mosambee has remained modest in its approach, silently driving impactful change in the fintech space. Sameer's hands-on approach and perpetual availability provide customers with the confidence they need to scale with Mosambee.
In his regular day, Sameer's passion lies in product development and he states that "A good product is an ongoing journey and is never complete. It requires us to get the right balance between what we know and also what we think. Any product must create value by either helping the customer increase revenue or reduce cost." With his passion for Product, Sameer holds two patents in the payments space, namely SamosaPOS, the first-of-its-kind smart calculator, and another one that would redefine contactless transactions.
One remarkable aspect of Mosambee is its consistent profitability, spanning seven years in the highly competitive fintech startup space. Sameer proudly claims that Mosambee raised only USD 2 million compared to USD 90 million raised by its competition and still emerged as a winner. Sameer mentions that "One of the highlights of our entrepreneurial journey was the successful sale of our business to Pinelabs, which yielded over 30x returns for our investors. This achievement showcases the tremendous value we were able to create during our tenure." Even after the sale, Sameer continues to serve as the CEO at Mosambee and efficiently operates the business with a high growth rate.
In his personal time, Sameer is an avid traveller, having been to all seven continents and over 70 countries. He loves spending time with his family, enjoys motor racing and obviously enjoys everything entrepreneurship. He has also backed a few startups by way of angel investments and is always available for a chat with entrepreneurs and founders.
If you have any objection to this press release content, kindly contact pr.error.rectification@gmail.com to notify us. We will respond and rectify the situation in the next 24 hours.