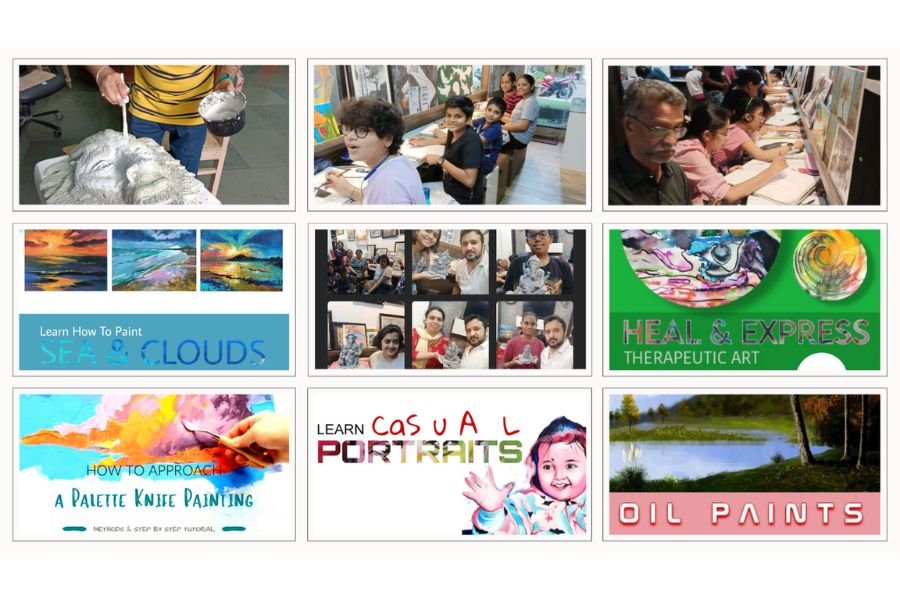 ART PALETTE, the Premier Art Institute
New Delhi (India), September 5: Art Palette, the distinguished institute of artistic excellence, announces its upcoming series of workshops on crafting Eco-Friendly Ganesh Idols. The events are scheduled to take place from 11 a.m. to 2 p.m. on the following dates-
On September 9, 2023, at Art Palette, Shop 3, Rose Apt, Plot 107, Sec 44, Seawoods, Navi Mumbai
On September 10, 2023, at Deep Academy, Shop 1A, Sec 16 Market, Vashi, Navi Mumbai.
The objective of this workshop is to spread awareness and motivate individuals to embrace the eco-friendly Ganesha idols during the festive occasion of Ganesh Chaturthi. By equipping participants with the expertise to create such idols, Art Palette endeavors to contribute to environmental preservation and the promotion of sustainable practices.
Art Palette, widely acclaimed as a premier institution for nurturing artistic growth, proudly stands as a beacon of excellence within the artistic realm. Endowed with the status of an Authorized Training Centre for Drawing and Painting, registered under the esteemed Education Board of Vocational Training and Research, Art Palette has consistently set new standards in the teaching of art. Its offerings encompass an array of Courses, Coaching, immersive Workshops, and Exhibitions designed to ignite inspiration and elevate artistic prowess. Commencing its journey in 2010 and spanning an impressive 13-year trajectory, Art Palette has emerged as an illuminating influence in artistic education and innovation.
Courses that Transform Aspiring Artists into Accomplished Professional
Art Palette is dedicated to empowering individuals to unfold their creative potential and pave the way for a rewarding career. Through the esteemed Certified and Diploma Courses, including the 1-year and 2-year Diplomas in Fine Art, as well as the specialized Art Teacher Diploma, students embark on a profound journey of exploration and mastery in the realm of art. Beyond honing artistic skills, these courses nurture a profound comprehension of art's historical and contemporary contexts. Art Palette stands as the transformative bridge, turning raw artistic enthusiasm into polished expertise. Additionally, the institute offers comprehensive Coaching and Training for Elementary/Intermediate drawing exams and entrance assessments for esteemed domains like Fine Art, Commercial Art, Design, Interior Design, and Fashion, ensuring that every student is thoroughly equipped to shine in their chosen artistic pursuit.
From Hobbies to Professional Courses, Art Palette caters to a diverse spectrum of learners who aspire to evolve, and express themselves. With a rich array of offerings, including Water Colors, Acrylics and Canvas Oil Painting, Charcoal Shading, Resin Art, and Clay Modelling, students embark on a vibrant journey of self-discovery and personal growth.
Workshops and Exhibitions – A Haven of Creativity
From its modest origins to its current stature as a trailblazer in the realm of art education, Art Palette has consistently evolved, leaving an enduring imprint on the artistic sphere. Art Palette's unwavering dedication to nurturing ingenuity is emphasized through its diverse range of Events and Workshops, meticulously crafted to empower artists throughout their creative journeys. These immersive workshops, led by highly experienced artists and educators, serve to enrich the artistic community with knowledge and inspiration. Moreover, the institution hosts captivating Art Exhibitions that celebrate the diversity and innovation of contemporary art.
Furthermore, Art Palette extends its commitment to art beyond the classroom walls. The institution proudly presents an impressive Art Gallery, which displays exceptional creations crafted by both students and instructors. This platform not only promotes the creative works of emerging artists but also facilitates connections between these talents and prospective collectors and enthusiasts.
Echoing this sentiment, a student of the Art Palette Institute said, "Art Palette is the best platform to enhance your artistic skills and it is tailored for those who want to pursue their passion as a career and grow immensely. Highly recommended for anyone who loves art. A key insight I gained from this journey is that learning and enhancing your artistic abilities know no age bounds. The experience was truly extraordinary, enriching not just our artistic skills, but also our souls, within the nurturing embrace of a creative sanctuary. My heartfelt gratitude extends to Vikesh Sir for curating such a transformative experience. I thank him for being an exceptional mentor!"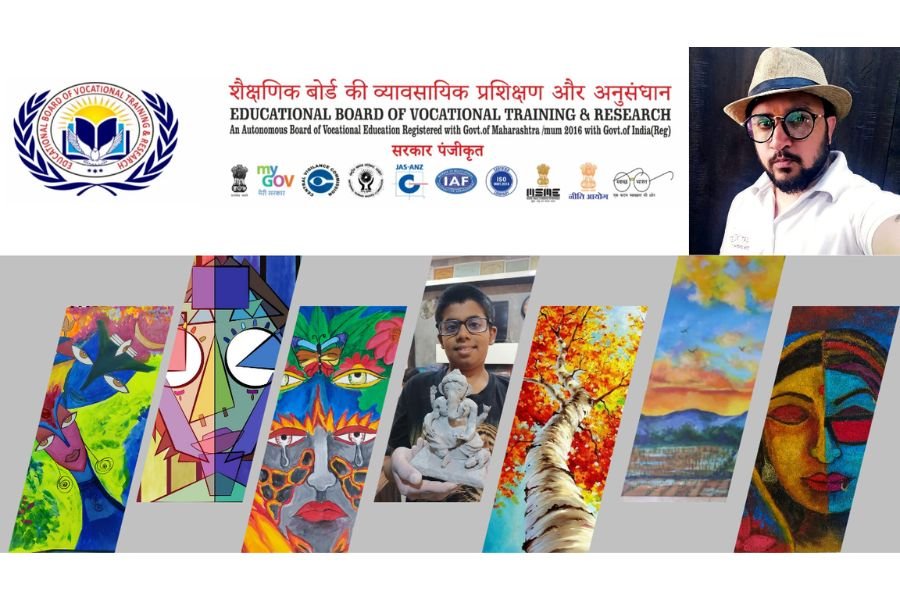 About Vikesh Jandial
Vikesh Jandial, the Art and Design Instructor, has been an integral part of the Art Palette team since its inception in 2010. He brings his extensive mastery as an artist and educator to mentor budding artists in their creative journeys. With over a decade of teaching experience, he has made a significant impact in the field of art education. His influence within the artistic sphere is beyond question, and his unwavering commitment continues to sow the seeds of inspiration across generations of artists. His talent, commitment, and passion serve as a guiding light for aspiring artists of Art Palette.
Presenting his viewpoint, Mr. Jandial expresses, "I intend to push my limits as an art educator, fostering my professional evolution. My belief revolves around the idea of pursuing one's passions and cherishing endeavors close to the heart. If you are in search of a career that fuels creativity, and allows you to use your imagination and skills, I aspire to assist you in your journey."
Art Palette extends an invitation to art enthusiasts and those eager to embark on a colorful journey to participate in its forthcoming events and be a part of the Art Palette community. Recognized as the leading Art Institute in Navi Mumbai, it establishes a nurturing environment for learning and creating art. With a steadfast commitment to creativity, innovation, and artistic excellence, Art Palette continues to shape the artistic landscape of India. It lights the way for innumerable budding artists, empowering them to turn their dreams into reality.
For more information, please visit www.artpalette.co.in.
Follow Art Palette on Instagram: https://www.instagram.com/artpalette2010/
ART PALETTE- the premier art institute
Studio: Shop 3, Rose Apt., Plot 107/108, Sector 44, Seawoods, Navi Mumbai -400706
If you have any objection to this press release content, kindly contact pr.error.rectification@gmail.com to notify us. We will respond and rectify the situation in the next 24 hours.