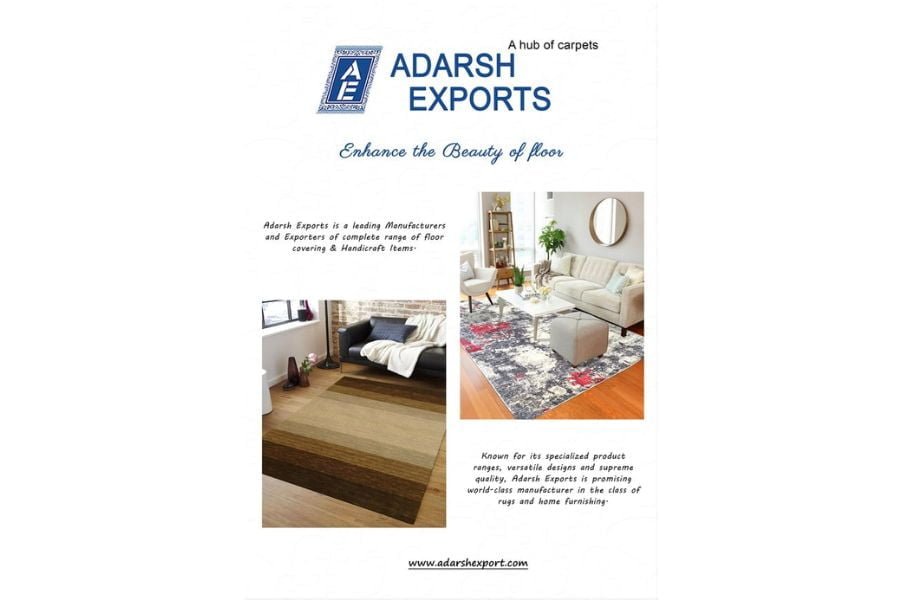 New Delhi (India), September 8: Adarsh Exports is an influential brand in high-end floor coverings and handicrafts, known for its remarkable craftsmanship and commitment to quality. Since founding in 1989, Adarsh Exports has provided venues worldwide with handmade carpets of unrivaled beauty and elegance. Due to the company's dedication to excellence and its distinctive line of products, it has received numerous awards and is now a well-known name in the sector.
Crafting Artistic Excellence: Indo Nepal Carpets, Handloom Rugs, Jute/Hemp Carpets The exceptional selection of goods offered by Adarsh Exports, each of which bears witness to the company's commitment to preserving the craft of handcrafted carpets, is at the core of its success. Indo Nepal Carpets are a testament to the company's dedication to enduring craftsmanship because of their elaborate designs and superior quality. The carefully and precisely woven handloom rugs radiate an air of authenticity that machine-made rugs cannot match. The Jute/Hemp Carpets also demonstrate Adarsh Exports' concern for the environment while bringing rustic beauty to contemporary spaces.
A Legacy of Excellence: Unveiling the Unique What sets Adarsh Exports apart from the rest? Three distinctive reasons underline the company's uniqueness:
1. Decades of Expertise: Adarsh Exports, founded in 1989, has a long history of producing carpets. This heritage results in time-tested craftsmanship that is unmatched.
2. Global Recognition: Adarsh Exports has established itself as a major player internationally. The organization's dedication to excellence is shown in its recognition across various venues and outstanding awards for being the best carpet manufacturer in Bhadohi, Uttar Pradesh, India.
3. Participation on the Global Stage: Not only does Adarsh Exports create carpets, but it also exhibits them around the world. The company's involvement in well-known expos like Domotex Hanover, Domotex China, Domotex Atlanta, and Domotex Dubai, as well as its participation in the National Carpet Expo in New Delhi and Varanasi, underlines the scope of its influence worldwide.
A Tribute to Craftsmanship and Artistry
Spaces are transformed into pieces of art by Adarsh Exports. Each carpet results from deft hands, exquisite designs, and a dedication to maintaining the tradition of handmade masterpieces. The carpets and rugs are beautiful works of art that convey stories of culture, history, and craftsmanship; they are more than just floor coverings.
Affordable Elegance for Every Space
Making art accessible is one of Adarsh Exports outstanding qualities. Everyone can add a touch of elegance to their homes or places of business thanks to the wide variety of carpets that cater to different tastes and preferences. Adarsh Exports' selections fit every budget and space, whether a luxurious Indo-Nepal Carpet or a beautiful Jute/Hemp creation. Adarsh Exports maintains its position as a torchbearer of artistry, history, and timeless beauty in a world increasingly dominated by mass manufacturing. Adarsh Exports continues to elevate places and captivate hearts with its exquisite, handcrafted carpets and rugs, a history rooted in perfection, and a future that promises to be just as illustrious.
If you have any objection to this press release content, kindly contact pr.error.rectification@gmail.com to notify us. We will respond and rectify the situation in the next 24 hours.